As I shared in my previous post, based on Governor Fallin's remarks to the annual Oklahoma PTA conference last week, it appears that she may have softened her position on the use of one "high stakes test" to make decisions relative to retention of Oklahoma third graders.
This would be surprising particularly because—just two months ago—the Governor vetoed House Bill 2625 and was quite critical in saying that the legislation "returns us to a system that has failed Oklahoma children for decades."
In her remarks to the PTA, the Governor went on to blame outgoing State Superintendent Janet Barresi for removing the option of modified testing for some students with special needs or English language learners. This was the first time she has publicly stated that her position on this issue differed from Barresi's.
At the same time, this change of position should not be all that surprising to those who have followed Governor Fallin's flip flopping tendencies over the years. She is a seasoned politician and very adroit at modifying positions to adjust to shifting political winds.
Remember this clip from 2009 when then U.S. Representative Fallin spoke out against President Obama and the federal government's American Recovery and Reinvestment Act (ARRA) for not creating jobs in Oklahoma, then eight days later reported that Oklahoma had been quick about "getting money out the door and creating jobs?"
Click HERE if video does not play.
<iframe width="420″ height="315″ src="//www.youtube.com/embed/iKtPsqmM5tM" frameborder="0″ allowfullscreen></iframe>
Fast forward two years and  Governor Fallin had her flip flops on once again, this time while addressing the issue of government subsidized health insurance exchanges in Oklahoma. This change of position was reported in the Edmond Sun on April 22 2011 (HERE):
Here is Governor Fallin on February 25, 2011 when accepting a $54 million federal grant to establish health insurance exchanges in Oklahoma:
After thoroughly reviewing the 'early innovator' grant, I am happy to say that the federal assistance we are being offered is consistent with our mission to design and implement an Oklahoma-based health insurance exchange. That exchange will empower consumers and help individuals and small businesses to shop for and enroll in affordable, quality health insurance plans. This is a step in the right direction for Oklahoma and its citizens."
Then here is a Governor Fallin just fifty days later on April 14 rejecting the same $54 million federal grant to establish health insurance exchanges in Oklahoma:
We have addressed concerns expressed by implementing strict safeguards to prevent the implementation of the federal health care exchange while definitively laying out the framework for a free market-based network that will empower consumers by providing a place for individuals, families and small businesses to shop for affordable, quality health insurance plans."
As chair of the National Governors' Association (NGA), Governor Fallin had also been an outspoken advocate for the common core state standards, which the NGA had worked for years to establish. In December 2013, Governor Fallin issued an executive order supporting the education standards in Math and English. In essence, her order simply changed the name of common core standards in our state to the Oklahoma Academic Standards (OAS). With her order, Fallin had hoped that it would ease fears that the standards represented a federal takeover of public education. However, the Oklahoma public was not fooled.
Both Fallin and State Superintendent Janet Barresi continued to speak in favor of the standards in interviews and press releases throughout the spring legislative session in spite of strong grass-roots public opposition. That support disappeared in June with the passage of HB3399 repealing the standards in Oklahoma.
Fallin signed the bill, stating:
We are capable of developing our own Oklahoma academic standards that will be better than Common Core. Now is the time for Oklahomans – parents, citizens, educators, employers and elected officials – to unite behind the common goal of improving our schools. That begins with doing the hard work of building new, more rigorous Oklahoma standards.
As is the standard explanation, the Governor blamed President Obama and his Department of Education for their bureaucratic overreach, knowing full well that it was her own National Governor's Association that was the primary mover for this national initiative. However, with it being an election year, the Governor realized that continued support of CCSS would cost her valuable votes in November.
The latest flip happened this week as the Governor continued to blame the federal government  for children from South and Central America being detained at Fort Sill. Yet, as reported by Joe Dorman, her Democratic gubernatorial challenger, the Governor helped to pass the immigration legislation that created this scenario as a U.S. Representative back in 2008. (Link HERE).
Mary Fallin continues to deny her responsibility on the vote she cast as a Congresswoman in 2008 that created the detention facility at Fort Sill," said Dorman. "She believes if she says it enough times, somehow Oklahomans will accept her sleight of hand attempt to dodge her part in this issue."
To be fair, the Governor's actions are not that unusual when it comes to politics. It does seem to be the way things are done nowadays. There are also times when I will applaud a politician for changing their position based on his or her more thorough study of an issue or to support the position of their constituents.  There are other times when changing positions comes across as pure political pandering.
For this reason, I encourage us all to be educated voters. We must ask targeted questions and do our research. It is important to cast our votes based on the previous actions of our elected representatives, not merely their words. We need to analyze voting records and policy decisions when they exist and not rely solely on 30-second television and radio ads or slick campaign releases.
The November elections are critical because they will in large part determine the direction of public education in Oklahoma for the next four years. Will we continue the same failed policies of the current administration—reforms built on the foundation of excessive testing and flawed accountability measures?  Or will we take back control of our local schools and begin to implement the kind of reforms that will result in meaningful school improvement and student success?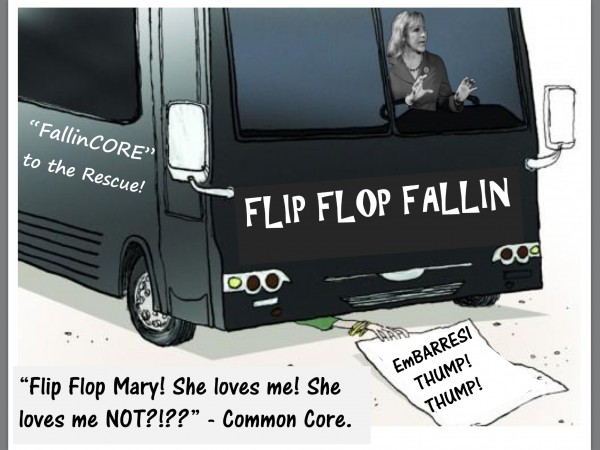 Artwork by J.L Scott.